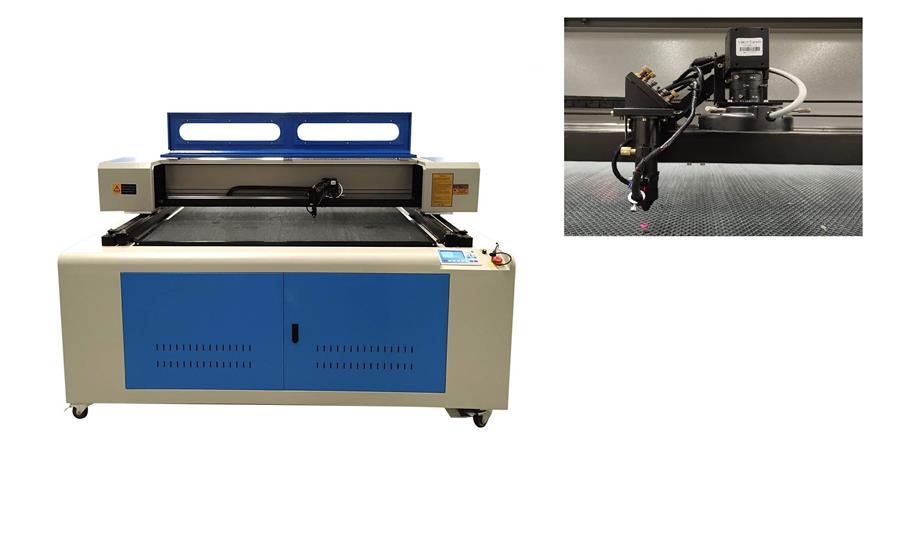 Technical Index:
Laser power: 100/130/150/200W
Laser Type: CO2 Sealed-off laser glass tube, water-cooled
Engraving size: 1300*2500mm
Engraving speed: 0-400mm/sec.
Cutting speed: 0-200mm/sec.
Laser Energy Control: Adjustable
Max. Scanning Accuracy: 25-2500DPI
Figure Supported: DST, HPGL (PLT), BMP, DXF, AI, DST, JPEG
Software Supported: TAJIMA, CORELDRAW, PHOTOSHOP, AUTOCAD, CAM
Color Separation: Yes, 256 layers
Machine size: 3330*2010*1260mm
Packing size: 3430*2110*1360mm
Gross weight: 700kgs
Total Power: <1200W
Communication Connection: USB (off-line) or computer control
Working Voltage: 220V+/-10% 50Hz, or 110V 60 Hz
Moving System: DSP Professional Controlling System
Repeating Location: <+0.01
Applicable Industry:
Laser Cutting Printed Sublimation Fabric for Sportswear Swimwear Shoes Banners Flags
Sportswear, sports garment, swimwear, printed sublimation textile & apparel
- Strips & plaids clothing, suits, shirts, dresses
- Fabric with Repetitive Visual Motifs
- Arabesquitic luxury bags, suitcase, sofa upholstery
- Banners, flags, vinyl, polyester
Product Feature:
1). Large format recognition continuous cutting
This function is for patterned fabric precisely positioning and cutting. For example, through digital printing, various graphics printed on garment fabric. In the subsequent of positioning and cutting, material information extracted by the high-speed industrial camera (CCD), software smart identification closed outer contour graphics, then automatically generates the cutting path and finish cutting. Without the need for human intervention, it can achieve continuous recognition cutting of the entire roll printed fabrics.
I.e. by large format visual recognition system, the software automatically recognizes the contour pattern of the garment, and then automatic contour cutting graphics, thus ensuring accurate cutting of the fabric.
Advantage of contour detection:
-No required the original graphics files
-Directly detect roll printed fabrics
-Automatic without manual intervention
-Identification within 5 seconds on the whole cutting area.
2). Printed Marks Cutting
This cutting technology is applicable to a variety of patterns and labels precision cutting. Especially suitable for automatic continuous printing clothing contour cutting. Marker point positioning cutting no pattern size or shape restrictions. Its positioning is only associated with two Marker points. After two Marker points to identify the location, entire format graphics can be precisely cut. (Note: arrangement rules must be the same for each format of the graphic. Automatic feeding continuous cutting, to be equipped with feeding system.)
Advantage of printed marks detection:
-High precision
-Unlimited for the distance between printed pattern
-Unlimited for printing design and background color
-Compensation of processing material deformation
3). Strips and Plaids Cutting
CCD camera, which is installed in the rear of the cutting bed, can recognize materials information such as stripes or plaids according to color contrast. The nesting system can perform automatic nesting according to the identified graphical information and cut pieces requirement. And can automatically adjust the pieces angle to avoid stripes or plaids distortion on the feeding process. After nesting, the projector would emit red light to mark the cutting lines on materials for calibration.
4). Square Cutting for Banners
If you only need to cut square and rectangle, if you don't have high requirement about cutting precision, you can choose below system.
Work flow: small camera detects the printing marks and then laser cut the square/rectangle.
Video:
https://youtu.be/zIHH4M2G1P8 (Mark Cutting)